Sign up now!
You are not signed up for this event yet.
Tue. 02.06.2020 14:15 - 15:45 hrs.
***No more registration possible, as fully booked***Startup solutions for mechanical engineering – Artificial Intelligence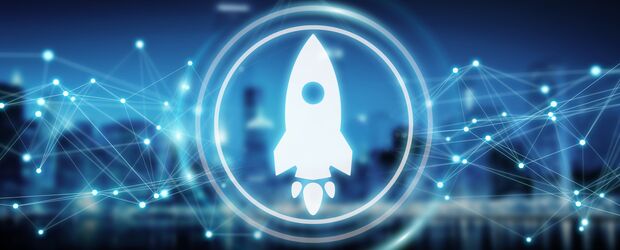 Shutterstock
Especially in times of crisis, such as the current COVID 19 pandemic, new ways of remaining competitive are needed. Startups often offer quick and unconventional solutions that can help companies quickly - especially in these times.
As growth drivers, start-ups are primarily translating trend themes into new digital technologies and products that also play a role in mechanical engineering. The cooperation between start-ups and mechanical engineering companies is promising, even if both sides still differ considerably in terms of corporate culture, flexibility or even speed. With mutual understanding, a very valuable cooperation can develop.
What can you expect from the web-seminar? In the one and a half hour session, five startups from the VDMA Startup Machine network will present their solutions with a focus on artificial intelligence in short pitches: How Artificial Intelligence can contribute to easier usability, how AI can be used to analyze data in a useful way, or how AI can be used to improve the transparency of supply chains - our startups will tell you all this. In addition, Guido Reimann from VDMA Software und Digitalisierung will give an overview of the use of artificial intelligence in mechanical engineering in his introductory presentation.
The web-seminar is the third event in the series "Startup solutions for mechanical engineering": Here, per web-seminar, you will learn about new offers from startups on current challenges.
The web-seminar is aimed at specialists and managers from the fields of production, innovation and business development.
Do you want to meet even more startups? On 06 July 2020, 14.15-15.45, we will present further attractive solutions from start-ups for mechanical engineering. This event is offered in English together with the VDMA BeNeLux. Please make a note of the date!
Agenda
TOP 1 Welcome, introduction round
Carsten Rückriegel, ProductionNRW
TOP 2 Artificial intelligence in mechanical engineering - an overview
Guido Reimann, VDMA Software and Digitization
TOP 3 Quality assurance + AI = simple operation
Dr. Miro Taphanel, Gixel GmbH
TOP 4 LANA Process Mining - we find the "why" in your data!
Nicole Becker, LANA Labs GmbH
TOP 5 Full transparency of logistics chains using neutral data and artificial intelligence
Marc Schmitt, Evertracker GmbH
TOP 6 Analysis of text data using quality management as an example
Leon Courgette, Curiosity GmbH
TOP 7 Operational excellence for industrial machines with digital augmentation and data-based optimization
Max Steinhoff, Predicpro GbR
TOP 7 VDMA Startup Radar - On the trail of AI startups
Dr. Laura Dorfer, VDMA Startup Machine
TOP 8 End of the event, further questions and next dates
Nirugaa Natkunarajah
Moderation: Carsten Rückriegel and Nirugaa Natkunarajah
Application deadline: 29.05.2020
Two days before the event, registered participants will receive a confirmation of participation and the technical details of the online tool including a dial-in link.
If you are unable to attend despite having registered, please send us a short message.
In the interest of an efficient dialogue we have limited the number of participants. Registrations will be considered in the order in which they are received.
The web-seminar is free of charge.
Information on data processing
We store and process your previously provided personal data for the purpose of registration and the implementation of the event. Your data will only be passed on to third parties (e.g. lecturers or co-organizers) if this is necessary for the proper execution of the event.
You have the right to object to data processing at any time for reasons arising from your particular situation.
If you have any questions or object to data processing, please contact Annette Petereit, annette.petereit@vdma.org, phone 0211 68774818.
Organizer
The event is offered by ProduktionNRW. ProduktionNRW is the competence network for mechanical engineering and production technology in North Rhine-Westphalia and is organized by VDMA NRW with the support of VDMA Startup-Machine and VDMA Software and Digitization. ProduktionNRW sees itself as a platform for networking, informing and marketing companies, institutions and networks among themselves and along the value chain. Essential parts of the services provided by ProduktionNRW are funded by the European Fund for Regional Development (EFRE).